Chiropractic Care IN Ottawa ON

What is Chiropractic & Why Do You Need it?
Chiropractic care in Ottawa ON is ideal for patients who wish to treat the cause of their pain in a safe and natural way, and those who want to be as healthy as possible. Chiropractic does not rely on the use of drugs to treat the symptoms of an issue. Rather, the treatment focuses on the source of the issue. In chiropractic, patients take an active role in their healing through healthy lifestyle choices such as diet and exercise.
Chiropractic therapy encompasses massage, exercise, advice, electro-therapies, sports therapy and tapping. But chiropractors are essentially health care professionals that specialise in spinal health.
Spinal manipulative therapy, which forms the bulk of most chiropractors' day-to-day work, is a therapeutic intervention performed on vertebral joints in the spinal column to alleviate pain.
Chiropractors apply tension to the patient's ligaments and then deliver a short, high-velocity thrust to increase the movement of the vertebrae. The therapy works by increasing vertebral mobility and improving blood flow to help reduce inflammation. It also changes nerve function which can result in many other effects.
So what does the evidence say about its efficacy? A Cochrane Review of spinal manipulation therapy for chronic low back pain shows that at minimum, it's as effective as exercise therapy, standard medical care or physiotherapy.
While chiropractic care focuses on the nervous, muscle and skeletal systems of the body, chiropractic can treat not only back and neck pain, but can for some people also treat other ailments such as allergies, PMS, headaches, and more. Other common treatments include sports injuries, auto accident injuries, and pregnancy care.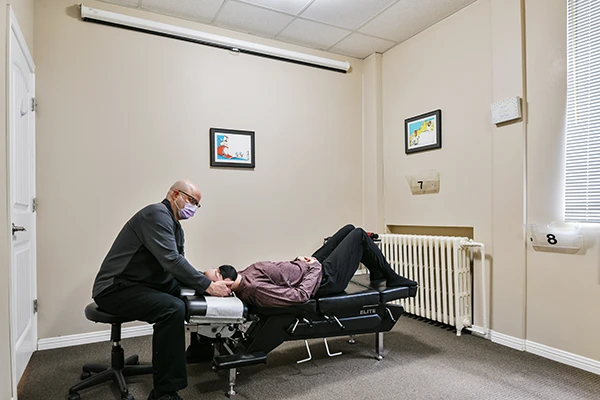 ---
WE EVALUATE FIRST
Before we can treat you, we must first evaluate what treatment you will need. After a series of questions about your pain and health history, our chiropractor will perform several tests involving reflexes, range of motion, neurological, postural and/or palpation tests, and sometimes recommend X-ray or MRI.
There are many different types of chiropractic adjustments, and only some have the "cracking" or "popping" sounds. Some techniques used here are even more gentle.
TREATMENT ARE CALLED ADJUSTMENTS
Our main treatment is to make small, specific gentle adjustments in your spine. Depending on the injury or ailment, these adjustments can help improve range of motion, flexibility, comfort, and overall wellness.
Spinal joints that aren't moving right can "pinch" or "choke" or "irritate" nearby nerves. Chiropractic adjustments add motion to these stuck joints, reducing nervous system disruption. Then, health has the best opportunity to return. Like lifting a heavy rock off your toe, our patients often report a pleasant sense of release directly following their adjustments.
There are many safe, gentle and effective chiropractic techniques. Sometimes a specific, highly-accurate thrust is used. Or an instrument delivers carefully directed energy. Or a slow, constant pressure is used. Several areas may be adjusted, or just one. Sometimes a popping sound is heard, but sometimes it's not.
Many patients say an adjustment feels great because we are helping the body heal by putting the spinal joints back in place. Most patients report a sense of well-being and ease. After all, if adjustments weren't pleasant, our patients wouldn't return for the multiple visits needed to retrain their spine!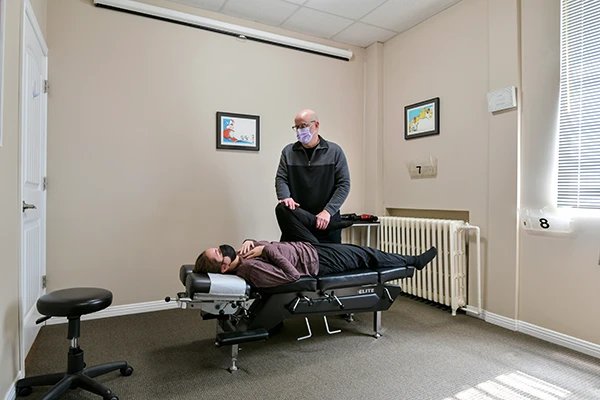 ---
Everyone Benefits from Chiropractic in Ottawa ON
Adults, teenagers, children, seniors and even back-surgery patients can get adjusted. Naturally, adjustments are tailored to your size, age and particular health issue. There are few people who cannot benefit from chiropractic care.
One of the largest primary-contact health care professions in Ontario, today's chiropractic is a non-invasive, hands-on healthcare discipline that focuses on the nervous and muscular and skeletal systems.
Chiropractors are the experts for the spine and the function of the nervous, the muscular and skeletal systems. Your nervous system connects every muscle, tissue, organ and gland in your body to your brain. Your body moves properly because of a healthy muscle and skeletal systems, and the nervous system sending signals to and from the brain. This is why chiropractors focus on the spine, but their treatments alleviate many symptoms throughout other parts of the body.
Chiropractors practice many manual approaches, providing diagnosis, treatment and preventive care for disorders related to the spine, pelvis, nervous system and joints. Not all chiropractic techniques have cracking or twisting or neck manipulations.
Chiropractors use a combination of treatments, all of which are predicated on the specific needs of the individual patient. After taking a complete history and diagnosing a patient, a chiropractor can develop and carry out a comprehensive treatment/management plan, recommend therapeutic exercise and other non-invasive therapies, and provide nutritional, dietary and lifestyle counselling.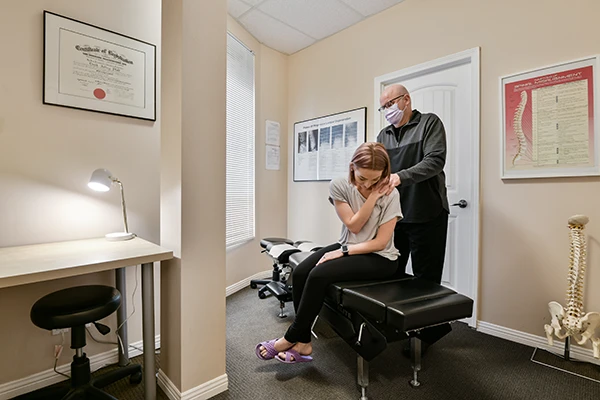 ---
What is Chiropractic for?
For many conditions, such as lower back pain, chiropractic care is frequently the primary method of treatment. Where other conditions exist, chiropractic care may complement or support medical treatment by relieving the neuro-musculoskeletal aspects associated with the condition.
Chiropractic care may also be used to provide symptomatic relief for patients with chronic conditions. According to patient surveys, by treating the neuro-musculoskeletal elements of such disorders, chiropractic treatment has been shown to improve the general well-being of the patient.
There are many reasons to seek chiropractic care, like:
Chiropractic is a regulated health profession, recognized by statute in all Canadian provinces and Canadian states. Almost 2 million patients in Ontario rely on chiropractic care every year to help them live healthy, active lives.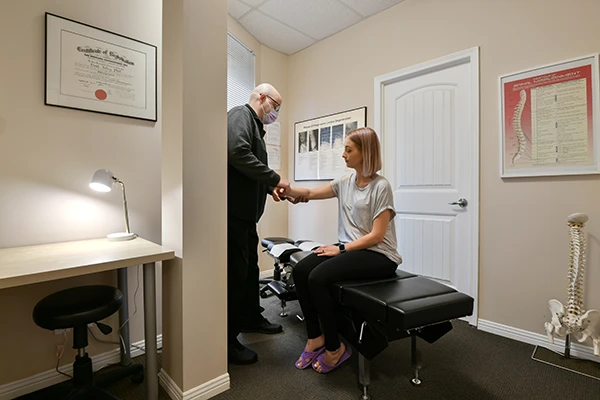 ---
How Safe is Chiropractic?
Millions of patients love their chiropractor and appreciate our unique and safe approach to recovery from pain. Significant research suggests that chiropractic is the safest approach available for relief from neck pain, back pain, headaches, and other muscle and joint complaints. Lets review that research, and discuss how modern medicine has contributed to the Myth that chiropractic care is dangerous.
In 1993, Ontario Ministry of Health hired a renowned health care economist to make recommendations for chiropractic and published the Manga Report. This comprehensive study reviewed all the published literature on low back pain and made some astounding suggestions. In a nutshell, it concluded that:
"Chiropractic should be the treatment of choice for low back pain – excluding traditional medical care altogether."
There is an overwhelming body of evidence indicating that chiropractic management of low-back pain is more cost-effective than medical management
There is no clinical or case-control study that demonstrates or even implies that chiropractic spinal manipulation is unsafe in the treatment of low-back pain. Some medical treatments are equally safe, but others are unsafe and generate iatrogenic complications for LBP patients.
Chiropractic is more cost-effective. There would be highly significant cost savings if more management of LBP was transferred from medical physicians to chiropractors.
There is good empirical evidence that patients are very satisfied with chiropractic management of LBP and considerably less satisfied with physician management (from Chiro.org)
---
But What About Neck Adjustments? Are They Safe?
The safety of chiropractic care is usually called into question with the most common and most helpful chiropractic adjustment of the neck and upper spine.
Yes, millions of neck adjustments are safely performed in Canada each year. Neck adjustments are performed well within the normal range of motion of the neck, and many adjusting techniques require no twisting of the neck at all. One of the most recent studies further confirmed this. Reviewing over 50,000 neck adjustments of more than 19,000 patients, the study found no serious adverse effects. (Safety of Chiropractic Manipulation of the Cervical Spine: a prospective national survey. Thiel HW, Spine, October 1, 2007, 32:21.)
Some people have heard there is a risk of a stroke from chiropractic neck adjustments. The most recent research into rare cases of stroke found that patients who visit a chiropractor are no more likely to experience a stroke than are patients who visit their family physician. The study concludes that this type of stroke commonly begins with neck pain and/or headache which causes the patient to seek care from their chiropractor or family physician before the stroke fully develops. This type of stroke is extremely rare and has been known to occur spontaneously. (Risk of Vertebrobasilar Stroke and Chiropractic Care. Cassidy JD. et al. Spine, February 15, 2008, Volume 33, Issue 4S Supplement.)
We take your health and safety seriously, and a full health history and thorough examination is always performed before any treatment.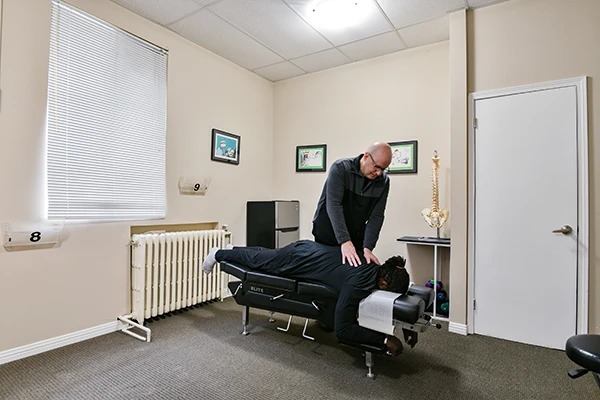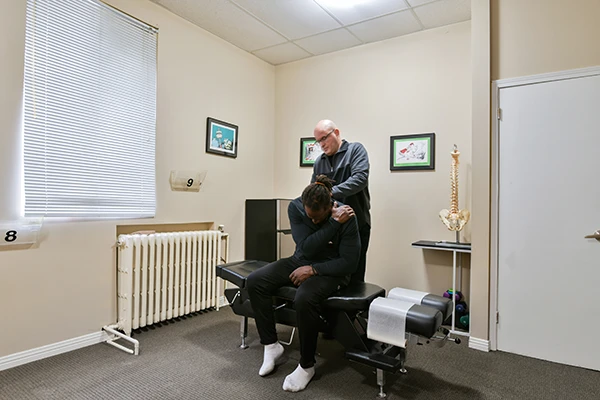 ---
Building a Foundation of Good Health Through Chiropractic
Chiropractic care is like building a house - certain things have to happen in a particular order in order for everything to stand strong and work correctly.
When building a house, if you tried to put up your walls before you had a solid foundation, your walls would be weak and eventually collapse. If you tried to put on your roof before the walls were ready, you would run into the same problem. The same is true for your body. Your body has to go through a particular plan of care in order to repair itself correctly and fully.
In addition, over time, the part of the house with the most load or weight may start to show signs of wear and tear and cracks first. In our body, this is true for our feet, knees, hips, lower back and neck.
Learn more about Our Care here. There are three general phases of chiropractic care:
Phase 1: Pain & Symptom Relief Care - If you are in pain when you come into our office, the first objective is to help you feel better. Depending on the severity of your problem, it is typical to need care 2-3 times per week for 4-12 weeks.
Phase 2: Corrective & Restorative Care - During the corrective care phase, muscles and other tissues are allowed to heal more completely, thereby helping prevent injury. It is typical to need care 4-8 times per month for 6-24 months, depending on your overall health and the severity of your problem.
Phase 3: Wellness Care - Once your body has fully healed, it is important to come in for periodic adjustments to avoid problems in the future. Usually, this only requires a quick visit to the chiropractor 1-4 times per month, based on your lifestyle and goals.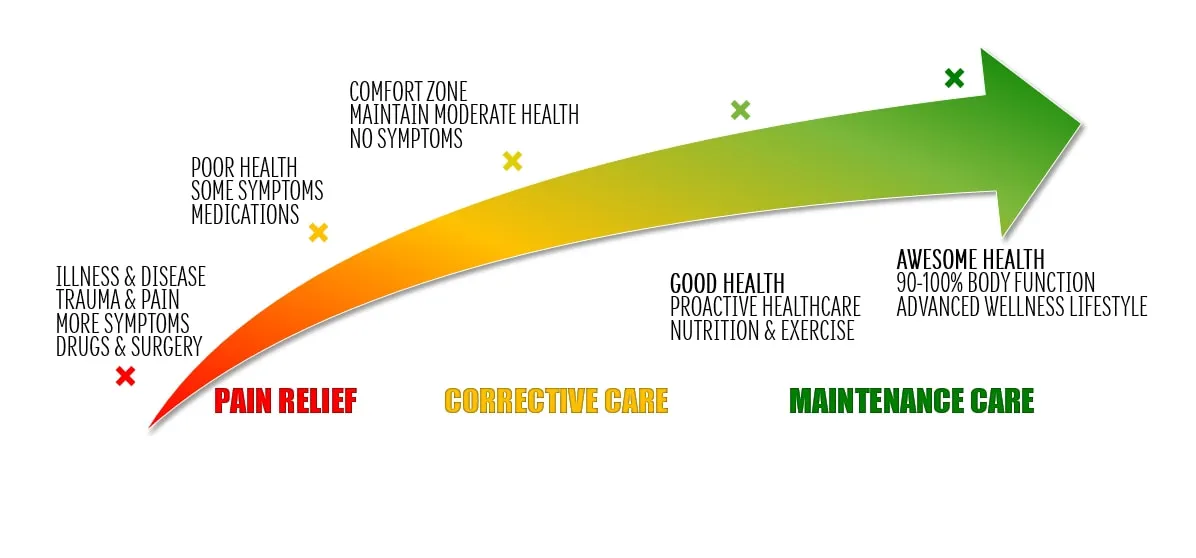 ---
Old & Young can Benefit from Chiropractic
All family members are welcome.
Our youngest patient ever started care at 6 days old. Our oldest patient turned 92 this year. Young and old, we are happy to help you when you need us.
If you have pain today, we will do our best to fit you in today.
---
Need more information?
Many symptoms can be helped with preventative care like acupuncture, chiropractic, massage, physio and laser therapy. We strongly recommend anyone experiencing the symptoms discussed on this page, see one of our health professionals soon.
---
Helping the Community & Missed Appointments
Our office donates all our missed appointment fees to local charities and regularly donates services and time. Each of our practitioners and staff also helps out and volunteers whenever possible. We are happy to support these great Ottawa organizations in our community. This year, we have supported the following local charities in some way:
Shepherds of Good Hope
United Way
Dragon Boat Festival
Youth Services Bureau
Ottawa Humane Society
Farm Radio
ACORN Canada
Ottawa Food Bank
Monday
4:00pm - 6:00pm
---
Tuesday
11:00am - 2:00pm
3:30pm - 6:00pm
---
Wednesday
11:00am - 2:00pm
3:30pm - 6:00pm
---
Thursday
11:00am - 2:00pm
---
Friday
Closed
---
Saturday
12:00pm - 3:00pm
---
Sunday
Closed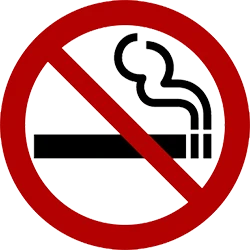 Please do not smoke within one hour of your appointment.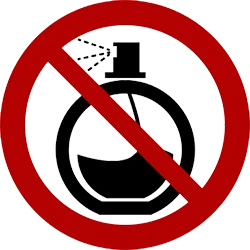 Please keep the air we share fragrance and scent-free.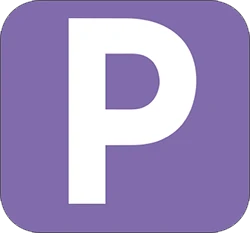 Evenings after 5:30pm, Weekends & 3 Reserved Spots in front.